New Mexico EBT Funds Used In Liquor Stores, Casinos, Smoke Shops, and Hooters
Print This Post
Booze, blackjack, butts and babes.
New Mexico welfare funds turned up in surprising places in a two month period of EBT card transactions examined by New Mexico Watchdog.
The money is supposed to be used for life's essentials to help needy New Mexico families with
children.  A prior report showed transactions on New Mexico-issued EBT cards in 45 states in the two month period we studied.  A closer look shows the state's welfare funds being used in ways and places that don't exactly fit the picture of a struggling family that can make ends meet only with public cash assistance.
EBT stands for "electronic benefit transfer."  It works the same as a debit card.  The EBT card is charged each month with a fresh monetary value that can be used for direct purchases or cash withdrawals.  Cash back can also be given on purchases.
We examined all the EBT transactions for November and December 2011, and a partial list of transactions in October 2011.  The vast majority of transactions showed cash withdrawals or purchases in businesses that do not on the surface raise suspicions.  Such businesses include grocery stores, discount clothing stores, Walmarts, Walgreens and convenience stores.  Of course, cash withdrawn at an ATM in those businesses could have been used to purchase liquor, cigarettes, and other articles that are not the intended purpose of the funds.  There is simply no way of knowing how the cash was used.
A significant number of transactions of New Mexico's welfare funds are withdrawn and/or spent inside businesses that by their very nature suggest baby food, diapers or utility bills were not the reason these welfare funds were accessed.
The transactions we analyzed were conducted on EBT cards issued by the New Mexico Human Services Department under the Federal Temporary Assistance to Needy Families program.  EBT card holders may withdraw cash at ATMs in any state.
Booze
New Mexico EBT cards were used to withdraw cash or make purchases inside liquor stores around the country.
In Albuquerque, EBT transactions occurred frequently at Oasis Liquors on East Central in Albuquerque.  For instance, on December 1, 2011, cash withdrawals were made inside Oasis Liquors in the amounts of $200, $40 and $20.  On that same day, $100 was withdrawn inside Ray's Liquors in Las Cruces, $20 inside the Monte Carlo Liquors and Steakhouse in Albuquerque, $32 inside Ace Liquors in Los Angeles, and $100 inside the Grace O'Malley Irish Pub in Ruidoso.  A purchase of $13.76 was also made at the Joy Party liquor store in Harrison Township, Michigan.
Frequent cash withdrawals and/or purchases were made in this two month period at Oasis Liquors and Ray's Liquors, as well Freeway Liquors, Downtown Liquors and the Bird of Paradise liquor stores in Albuquerque.  Repeated, but less frequent use of EBT cards occurred in the Monte Carlo Liquors and Steakhouse and the Grace O'Malley Irish Pub.
We also found repeated EBT transactions at Kelly's Brew Pub in Albuquerque in sums of $120 and up.
New Mexico watering holes also saw EBT withdrawals and/or purchases.  $60 was withdrawn inside the Lotus Nightclub and VIP Ultralounge in Albuquerque.  There is a $10 cover charge to get inside the establishment.
The Library bar in downtown Albuquerque saw several withdrawals of cash on its premises, as did the Launchpad bar a few blocks west on Central Avenue.  Like the Lotus Nightclub, the Launchpad usually demands a cover charge for admittance.
Multiple purchases were made at the Pecos Bar in Santa Rosa.  Cash withdrawals of $200 and $120 occurred on the same day in the Alamogordo VFW.  Someone with a New Mexico EBT card cashed out $40 inside the Moose Lodge in Las Cruces.  The same amount was withdrawn inside the Knuckleheads Bar on Coors Boulevard in Albuquerque.
We also found multiple purchases and/or cash withdrawals at two liquor stores in Hesperia, California, and liquor stores in Independence, MO, Wilmington, CA, Whittier, CA, Los Angeles, CA, Mesa, AZ, Grand Rapids, MI, and Harrison, MI.
Blackjack
The New Mexico Human Services Department has acted aggressively to prevent welfare recipients from withdrawing cash on their EBT cards inside casinos.  But that may not be enough.  We found multiple large cash withdrawals from ATMs located outside or close to casinos along the US 285 corridor between Santa Fe and Espanola.  We found multiple cash withdrawals at an ATM identified as "Camel Rock" in the Department's records.  This ATM is located at 10 Camel Rock Road, Santa Fe, which is the address of the Valero gas station and convenience store outside the Camel Rock Casino.
We found multiple withdrawals of New Mexico welfare funds at casinos outside the state's
borders.  For instance, $280 was withdrawn on November 1 and again on December 1 at the Speaking Rock Casino in El Paso, Texas.  $100 was withdrawn at the Skydancer Casino in Belcourt, North Dakota.  A total of $260 was withdrawn on one day at Aces Up in Bridge City, Texas.  Someone with a New Mexico EBT card withdrew $200 in cash inside the El Capital Casino in Hawthorne, Nevada.  $300 was withdrawn from an ATM outside the Hawaiian Gardens Casino in Hawaiian Gardens, California.
Babes
Cash withdrawals of New Mexico welfare funds were made from inside the Knockouts strip club in downtown Albuquerque.  We also found withdrawals inside Hooters bars in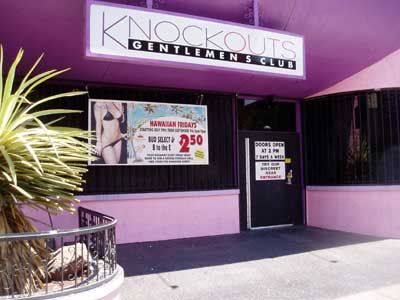 Albuquerque and Las Cruces.  On December 1, for instance, $360 of welfare funds on someone's EBT card was accessed from inside the Las Cruces Hooters.  Three weeks later, $280 was accessed from inside the Albuquerque Hooters.
We classified the EBT transactions inside the Library and Knuckleheads bars under "Booze."  But a quick look at their websites and Facebook pages provides enough reason to put them in this category, as well.
Butts
New Mexico EBT cards were used to withdraw cash or make purchases in smoke shops around the country.  In Albuquerque, EBT cards were used multiple times as the Oasis,
M&M and Ray One smoke shops.  For instance, on December 1, four withdrawals of $100 each took place inside the M & M Smoke Shop.  NMHSD records show purchases as well as cash withdrawals inside the smoke shops.
Some of these stores sell more than cigarettes.  The Oasis, for instance, features a hookah lounge. Bongs and pipes can also be purchased in some of these stores.
Outside the state, New Mexico EBT cards were used at Old Town Tobacco in Carson, California, the Tobacco Store in West Monroe, Louisiana, Beer and Tobacco in Independence, Missouri, and the On Auk Mor Smoke Shop, a tax free smoke shop on an Indian reservation near Scottsdale, Arizona.
Hitting the Slopes, Knocking Down Pins

One New Mexico welfare recipient used their EBT card to withdraw $200 in cash
at the Sipapu Ski Resort.  Another welfare recipient used their EBT card to tap $100 in cash at Leisure Bowl in Albuquerque.
Pizza, Lots of Pizza
Nearly two thousand dollars in cash was withdrawn from inside the NYPD pizza restaurant in downtown Albuquerque in the short time period we examined.  On October 1 alone, $520 in cash was tapped from inside this pizza establishment (which also sells beer and wine).  This business is located just about one block away from the Knockouts strip club and the Library bar where we found other EBT transactions and sits at the gateway to Albuquerque's night life zone along Central Avenue.  The back door to the Lotus Nightclub and VIP Ultralounge is across the street.
EBT cards were used to make multiple purchases at pizza parlors in El Paso, Artesia, Roswell, Carlsbad
At the Pied Piper Pizza in Las Cruces, $340 was withdrawn in three transactions on November 1.
We found EBT withdrawals and purchases at other restaurants across the country, like $40 at a Burger King, $80 at a House of Waffles, and four withdrawals of $100 each at Rose Donut in Inglewood, California.
Shopping Spree
Welfare funds were withdrawn in cash or used to make purchases frequently at Dillard's department stores.  Dillard's describes itself as an upper-end retailer featuring "fine clothing, brand name electronics and home decor."  On December 1, $420 was withdrawn at the Dillard's at Cottonwood Mall in Albuquerque.  The next day $300 was withdrawn at a Dillard's in El Paso and $600 at a Dillard's in Las Cruces.  On Noveber 2, $400 was withdrawn inside a Dilliard's in Farmington.  On October 1, $1,420 was accessed from inside Dillard's stores in Santa Fe, Las Cruces, Albuquerque, and El Paso and Odessa, Texas.
Whole Foods is beyond the budgets of many people who would not qualify for public assistance, but we found New Mexico welfare funds being used to purchase this chain's pricey items every month.  Consider this excerpt showing just one day's transactions at Whole Foods stores (click on image to enlarge):
New Mexico Welfare Funds Leaving the Country?
We came across several unusually large expenditures at United States Post Offices.  For instance, a New Mexico EBT card was used to make a $331.10 purchase at the USPS office in Organ, New Mexico on December 5.  A purchase of $380 using a New Mexico EBT card was made in a Las Cruces USPS office on November 1–with $378.90 cash back on top of that purchase.  On November 7, again at the Organ USPS office, someone made a purchase of $380.  In Columbus, New Mexico, a New Mexico EBT card was used to make a $241.10 purchase in a USPS office on November 10.
Maybe these hundreds of dollars of welfare funds were spent on postage.  More likely, they
were spent on money orders so that New Mexico welfare funds to be sent to someone other than the approved recipient.  USPS offers domestic as well as international money orders.
We also found hundreds of dollars intended for food, clothing and rent spent or withdrawn in cash at Greyhound bus terminals, the Miami airport and motels near the El Paso airport.
How Bad is EBT Abuse and What Is Being Done?
We have provided just a brief glimpse at about two months' EBT transactions in one of the country's least populous states.  Our review of these limited sample is by no means exhaustive.
EBT fraud and abuse is a growing problem around the country.  This is to be expected from a program that distributes billions of dollars in cash that can be spent on anything, anywhere, without any accountability.
In our next report we will review other investigations of this problem and discuss what the New Mexico Human Services Department is doing about it.
Posted under News.
Tags: EBT Cards, EBT fraud, electronic benefit transfer, Hooters, smoke shops, TANF, Temporary Assistance to Needy Families, welfare
13 Comments For This Post So Far



10:17 am

on November 29th, 2012



10:43 am

on November 29th, 2012



10:45 am

on November 29th, 2012



12:17 pm

on November 29th, 2012



1:14 pm

on November 29th, 2012



5:00 pm

on November 29th, 2012



7:06 pm

on November 29th, 2012



7:45 pm

on November 29th, 2012



1:52 pm

on November 30th, 2012



10:42 pm

on December 11th, 2012



3:29 pm

on December 12th, 2012



5:10 pm

on December 12th, 2012



4:14 am

on February 8th, 2014
Leave a Reply